A Guide to Anti-Money Laundering for Crypto Firms
Sanctions represent an important tool for governments around the world and are used to achieve foreign policy goals or to punish violations of international law. Sanctions regimes involve the application of economic restrictions against a range of foreign targets, from nations and government regimes, to organizations and individuals. In order to ensure their measures have the desired effect, governments may seek to apply economic restrictions not only to persons within their jurisdiction, but to persons in foreign jurisdictions who trade with their sanctions targets.
This approach to sanctions enforcement entails two categories of international sanctions, known as 'primary' and 'secondary' sanctions. Firms that do business with foreign customers and clients, or that have foreign partners and suppliers, must understand how the different categories of sanctions apply and, importantly, how to achieve compliance.
What are Primary Sanctions?
Primary sanctions are economic restrictions that require compliance from persons within the issuing country. In the United States, for example, the Office of Foreign Assets Control (OFAC) may impose a range of sanctions – such as embargoes, asset freezes, and travel bans – directly against foreign targets. US persons and obligated entities must then screen their customers against the OFAC sanctions list to ensure that they are not doing business with a sanctioned person. 
OFAC primary sanctions: OFAC sanctions are imposed in accordance with the US' sanctions regime, directly against countries, organizations, and individuals that the US government deems to be guilty of international crimes or to be working against US national security interests. US sanctions targets currently include (but are not limited to): North Korea, Russia, Cuba, Iran, Syria, and Chinese military companies.
US primary sanctions generally apply to any transactions that have a nexus to the United States' jurisdiction, this includes:
US citizens and permanent residents (located anywhere in the world)
Persons of any nationality that are physically located in the US 
Entities that are organized in the US
Entities incorporated in the US (along with any foreign branches)
Transactions that are processed via the financial system of the United States and any transactions in US dollars. 
US persons are restricted or forbidden from trading with persons within sanctioned countries and face significant penalties for noncompliance. OFAC primary sanctions violations may result in fines of up to $1 million (per violation) and prison sentences of up to 20 years.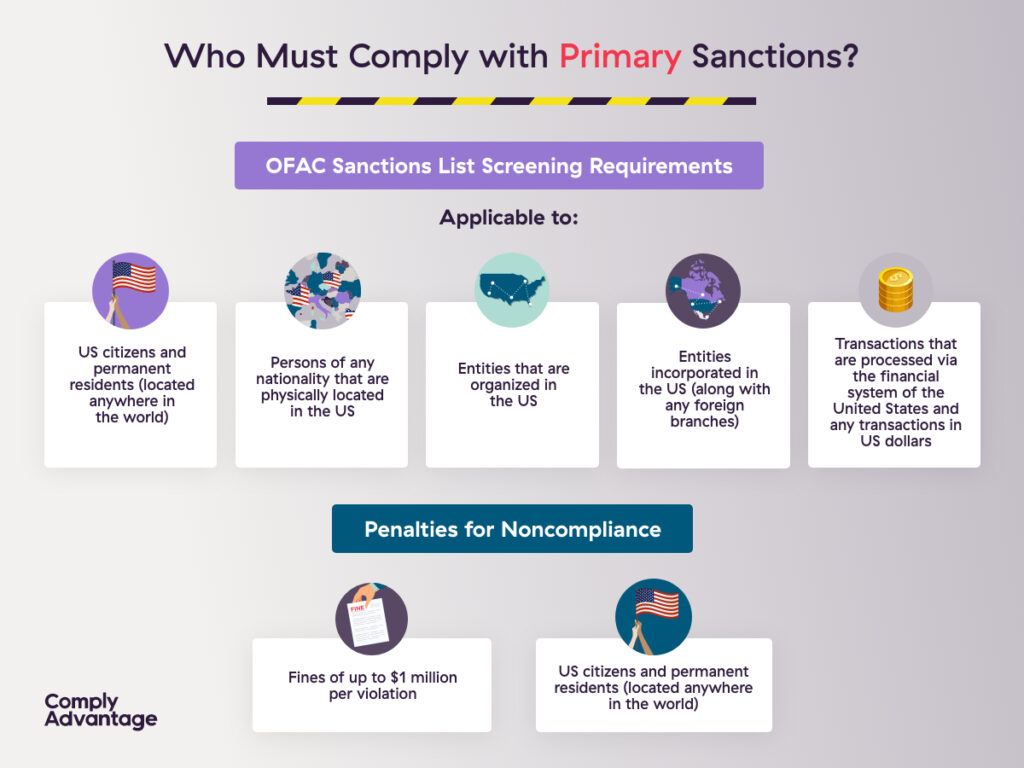 What are Secondary Sanctions?
Secondary sanctions are intended to prevent third parties from trading with countries that are subject to sanctions issued by another country. Essentially, this means that third parties not based in or are not citizens of an issuing country face penalties for doing business with the targets of the issuing country's sanctions regime. 
Secondary sanctions are intended to enhance the effects of primary sanctions but also serve to protect the national security interests of the issuing country on a global basis by discouraging third parties from engaging in harmful actions. Penalties for noncompliance with secondary sanctions generally manifest as a prohibition on doing business with the issuing country or a restriction of access to the issuing country's financial system. 
OFAC secondary sanctions: In the US, OFAC secondary sanctions support the objectives of primary sanctions programs against countries such as Iran and North Korea. The secondary sanctions regime functions to protect US national security interests by preventing non-US third parties engaging in a range of specified trade activities with those targeted countries. 
Penalties for violating secondary sanctions include degrees of exclusion from the US' economic system, which might mean prohibitions on importing goods from, or exporting goods to, the US. Persons that violate secondary sanctions may also be added to the US Specially Designated Nationals and Blocked Persons (SDN) list. 
Examples of US secondary sanctions imposed against non-US persons include robust restrictions on trade with North Korea and Iran. In 2017, the US took action against the Chinese-based Bank of Dandong for its participation in a money-laundering operation for the North Korean government. The US Treasury penalized the Bank of Dandong by prohibiting it from trading with US financial institutions. 
Similarly, in 2018, when the US reinstated its sanctions program against Iran, it also reinstated secondary sanctions for non-US persons trading with Iran in a range of sectors including energy, precious metals, financial services, software, and food imports. Thousands of Iranian citizens were also added to the SDN list. 
How to Comply with Primary and Secondary Sanctions
Compliance with primary and secondary sanctions is an important priority for multinational firms or firms that do business with foreign clients. While firms may be familiar with the primary sanctions that apply within their regulatory environment, and screen customers regularly against the relevant sanctions lists, compliance with secondary sanctions requires firms to expand the scope of their screening solutions to include a broader range of international sanctions. UK firms that do business with clients in the US and clients in Russia, for example, must screen against both the UK Sanctions List and the OFAC Sanctions List – or risk violating US restrictions. 
Whether dealing with primary or secondary sanctions, effective screening solutions should be capable of capturing up to date sanctions data quickly and accurately, while minimizing false positives and administrative noise. Firms should seek to integrate suitable software tools to optimize the screening process and that can manage a range of sanctions compliance challenges, such as the use of aliases, non-Western naming conventions, and non-Latinate characters. 
Blocking laws: When governments deem secondary sanctions to be unreasonable, they may implement regulations known as 'blocking laws'. 
Designed to protect domestic businesses interests from foreign regulations, blocking laws effectively block secondary sanctions, penalizing domestic firms that comply with them while authorizing civil suits for firms that suffer financial damages as a result of their noncompliance. Recent examples of blocking laws include the EU's Blocking Statue, implemented in 2018 to prevent compliance with US sanctions on Iran, and China's Blocking Rules, implemented in 2021 as a response to escalating economic tensions with the US. 
Global Sanctions Guide
To learn more about sanctions around the globe, view our latest report.
View Guide
Originally published May 13, 2021, updated July 18, 2022
Disclaimer: This is for general information only. The information presented does not constitute legal advice. ComplyAdvantage accepts no responsibility for any information contained herein and disclaims and excludes any liability in respect of the contents or for action taken based on this information.
Copyright © 2022 IVXS UK Limited (trading as ComplyAdvantage).