Skip to main content
Skip to navigation
Launching AI-driven Fraud Detection
Adverse Media Screening
Verify high-risk clients with reputable adverse media screening software
Cut through the noise and analyze true adverse media context at scale with our robust adverse media screening software.
Request demo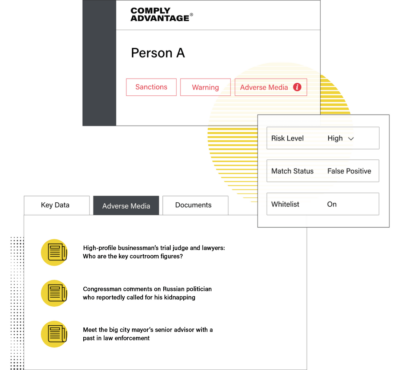 Customer Value
Reduce onboarding cycle time
Tailor your adverse media screening program to your risk-based approach and minimize false positives
Automate ongoing monitoring
Move away from delayed flat file uploads and stay alert to changes in risk status
Eliminate non-reputable noise
Filter only the risk that is relevant to your business and whitelist low-risk clients
Sync with the tools you use
Integrate data feeds, case management systems, and CRMs to match your workflow via industry-leading API integration
Machine learning delivers contextual understanding
Leverage AI and natural language processing to analyze true adverse media context at scale. 
AML/CFT taxonomy aligned to regulatory guidance
Easy to justify categories aligned to the latest FATF and EU MLD recommendations.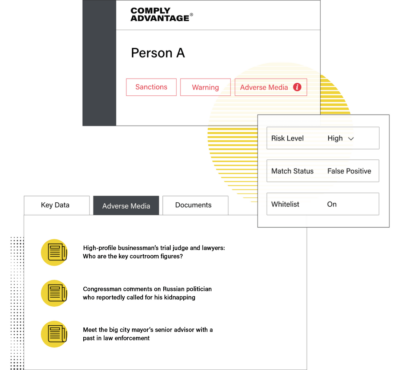 Structured profiles continuously updated
Screen against a database of entity and individual profiles, not endless articles.
Source list curated by financial crime experts
Ensuring only reliable media informs the identification of adverse entities.
Capabilities
Contextual understanding

AML/CFT taxonomy 

Live structured profiles

Entity-based alerts

Secondary identifiers

Native language media

Curated source list

Alert management web portal

REST API integration
Latest news and press releases